Fall 2016
                                        
Julio Perez - Project Manager
Julio Perez is a fourth year Mechanical Engineering student with a minor in Business Management. Perez is the current project manager of the Unmanned Aerial Vehicle Team for the Fall 16' semester. He took on this position because he acknowledges the improvement he has made as an engineering student thanks to all the support of ESL. Perez plans on going to grad school for project management to expand all the project skills he has acquired. Aside from academics, Perez is also an active member of Society of Hispanic Professional Engineers, and he was a successful team member of the UC Merced's Men Soccer Team for two years.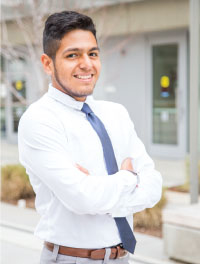 Arnold Santiago - Assistant Project Manager
Arnold Santiago is a fifth-year student pursuing a degree in Mechanical Engineering. Santiago is the Assistant Project Manager of the Engineering Service Learning Team Unmanned Aerial Vehicle (UAV). He was interested in the team because it gave him a good way to introduce himself to aerial advancements. Santiago has a keen interest in anything hands on, specifically the maintenance of equipment and taking apart and putting things back together. He was also involved with the American Society of Mechanical Engineers on campus. Santiago enjoys performing basic maintenance on students' vehicles for a nominal fee.
Adrian Huizar – Communication Officer
Adrian Huizar is a first year pursuing a degree in Mechanical Engineering. As the Communications Officer, his job is to speak to the team's sponsors and make sure that the team has all the materials to finish the tasks they set for themselves. Adrian also makes sure that the advisors are updated on what they have been doing through the week and know where they stand on plans to start the research for the community. This position requires many social skills that make one active in and out of the classroom. His favorite hobby is playing sports on the beach and hanging out with family and friends.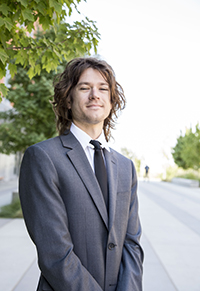 Johnathan Deas – Intellectual Property Officer
Johnathan Deas is a fifth year transfer student that is pursuing a degree in Mechanical Engineering. As the current Intellectual Property Officer for the Unmanned Arial Vehicle Team. Some of his experiences that lead to this position include managing the Spring 2016 Solar Kiosk Capstone team as part of the Student Success internship. Involvement in research on cave mapping drones under Dr. Chen had opened up the desire to determine improvements to SLAM algorithms with quicker system response and more streamlined processing that would be both financially viable and competitive with other programs. Is also currently the head of the Scholarship Chair in Theta Tau with involvement in the Research and Development Committee.
Leonel Orozco – Procurement and Finance Officer
Leonel Orozco is a first-year Mechanical Engineer Major student. He is the procurement and financial officer for the Engineering Service Learning Team, Unmanned Aerial Vehicle (UAV) Team. Orozco has always had an interest in getting hands-on experience, what better way than to work alongside a team of students and faculty working on an unmanned drone that could provide the necessary skills. He hopes to gain many valuable skills as the first year and the opportunity to grow as a leader and team member. He enjoys drawing in his spare time and spending time reading news articles that mostly focus on technology, the economy, and space exploration.  
Marvis Machniak – Team Leader
Marvis Machniak is a third year Computer Science and Engineering major. He is the leader of the imaging team in the Unmanned Aerial Vehicle team, an Engineering Service Learning team. His interests include his Catholic faith as well as various computer science fields, such as security, networks, and autonomy, which match well with the project. He enjoys running small projects of his own, ranging from managing game servers to writing apps and utilities for Windows Phone, using these as a gateway to learning about computer networking and security. He also provides computer support to family and friends and mentors his former high school's robotics team.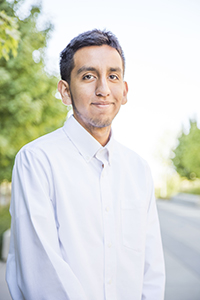 Nathan Ibarra – Team Leader
Nathan Ibarra is a first-year student striving to earn a degree in Mechanical Engineering and currently the 2016 Team Leader for platform UAV Engineering Service Learning team. He chose the UAV Team because the high school internship he had at Northrop Grumman that demonstrated the future of their company is in UAVs and that is what he wants to pursue in his career. He also competed out in Australian a UAV competition which sparks his true interest in the field of aviation. Ibarra saw this team as the perfect opportunity to further his experience in the aviation field of engineering and continue to attain his masters in engineering. Ibarra works well with a team and has some experience with DJI drones he used in Australia UAV Outback Challenge.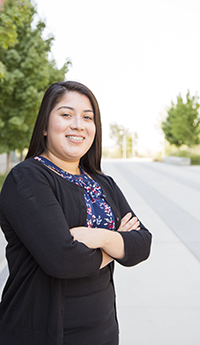 Patty Casimiro – Member
Patty Casimiro is a second-year student majoring in Public Health with a minor in Environmental Science and Sustainability. Casimiro is in the Unmanned Aerial Vehicle Team. She chose this team because she is open to new things and drones would be a first for her. Casimiro wants to take this opportunity to invest in her education while getting involved with the community. Casimiro will learn how to put her skills to practice by participating in the project with her team. This will also be good for her because she will be spending time outside the classroom which is something she likes to do rather than being indoors.
Buraaq Alrawi – Team Member
Buraaq Alrawi is a 1st year Mechanical Engineering student at UC Merced. He is currently a member of the UAV imaging team for the 2016-2017 school year. Alrawi chose the UAV team in order to practice his software skills and learn more about drone technology and its applications. He learned how to code on his own time and enjoys working with computers and with his hands.
Amiel Cristobal- Team Member
Amiel Cristobal is a third-year student pursuing a degree in mechanical engineering. Cristobal is currently a team member of the Unmanned Aerial Vehicles Engineering Service Learning team for the 2016-2017 school year. He chose the UAV team because it is able to provide him hands-on engineering experience with drones, which allows him to be well-educated about it, while it simultaneously allows him to give back to the community. He hopes to work for the aerospace industry after graduation and possibly pursue a master's degree in psychology. Cristobal is currently a student assistant in the School of Natural Sciences and a founding father of fraternity recently brought on campus, Pi Kappa Phi. He enjoys being involved with the community and school as well as spending time with family and friends.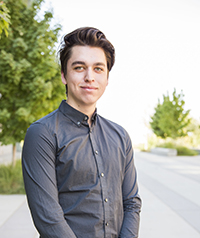 Erick Cedillo – Team Member - Team Member
Erick Cedillo is a second-year student majoring in computer science and engineering, however, he is going to switch into a Physics major because of the interest and experience he has in the field. Cedillo is a team member of the UAV (Unmanned Aerial Vehicle) group. Cedillo chose to be a part of this group because he would like to find out more about how UAV's work and how they can be of helpful use in society. Cedillo enjoys spending his time playing guitar and collecting vinyl records along with other collectibles.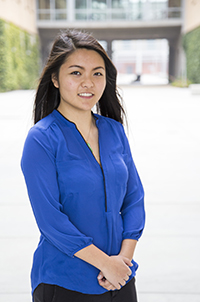 Victoria Manh – Team member
Victoria Manh is a fifth-year student studying material science and engineering. She chose to join this team because it gave her the opportunity to expand her knowledge of UAS and use a UAV to collect data that will benefit the community the organization serves. In her spare time, Victoria enjoys watching documentaries, playing board games, and hanging out with friends.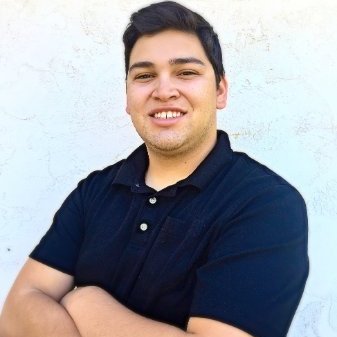 Eduardo Diaz – Team Member
Eduardo Diaz is a third-year student studying Mechanical Engineering. Diaz is a general team member for the Engineering Service Learning Team Unmanned Aerial Vehicle. He chose this team because it gave him the opportunity to practice in the field he wants to go into. Diaz is interested in airplanes and wishes to become an engineer for an aerospace company one day.
Ivan Ceballos – Team Member
Ivan Ceballos is a second-year student studying mechanical engineering. Ceballos has chosen to join to Unmanned Aerial Vehicle (UAV) Service learning team for 2016-2017 school year. Ceballos picked UAV team because he believes that drones and unmanned aircraft are where the future is heading. Considering Ceballos's interest and experience with the US Military, it will give him an excellent opportunity to pursue his military career and give him vast possibilities in the civilian world; that is, he would like to work in the automotive industry post-graduation and the UAV service learning team is an excellent way to get ahead.
Patricia Kaye Mendoza – Team Member
Patricia Mendoza is currently a second year Mechanical Engineering student; she has chosen to be a part of Engineering Service Learning's Unmanned Aerial Vehicle Team for the fall of 2016. Mendoza decided to become a part of UAV's Team to learn more about drones, and how they have so many expandable possibilities in agriculture. She spent her summer interning for Flatiron Construction, a contracting company, where most projects involved restoring water reservoirs. Having the opportunity in UAV, Mendoza plans in possibly accommodating the team to further reduce massive water and agricultural deficits for the Central Valley. Mendoza plans to become a Nuclear Engineer in the future.